Cycling Bargains -
Chain Reaction UK Schwalbe Rocket Ron Addix TR Folding MTB Tyre - Black, Black (33127755667)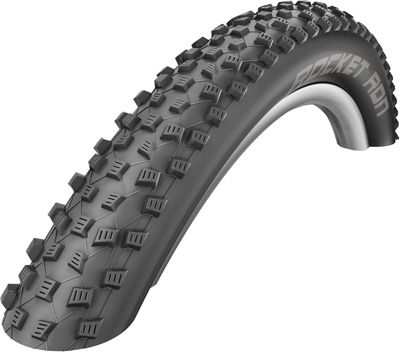 Cheapest | Lowest | Sale | Deal Price
Was £49.99, NOW £16.99 (66% OFF)
Available from Chain Reaction UK.
Chain Reaction UK Schwalbe Rocket Ron Addix TR Folding MTB Tyre - Black, Black
Product Description
Schwalbe Rocket Ron Addix TR Folding MTB TyreBringing you excellent speed and cornering grip in equal measures, the Schwalbe Rocket Ron Addix TR Folding MTB Tyre is a great all-rounder for cross country riding on mixed terrain types. Suitable for use in tubeless wheel and tyre systems, the Rocket Ron truly lives up to its name, as with its tight tread pattern it offers a very low rolling resistance. The tread's advanced design includes stable shoulder studs so you can maintain grip in the corners. Plus, there are still enough gaps between the studs to clear mud efficiently, preventing "spin-outs" when you're attacking steep climbs.Features: Compound: ADDIX Speed Bead Type: Folding Casing: Single Ply, 67tpi Puncture Protection: Yes, Super Ground E-bike Compatible: Yes Tubeless Compatible: Yes Cleverly designed tread balanced for low rolling resistance whilst remaining grippy Sufficient gaps for amazing self-cleaning properties Stable shoulder studs Sold IndividuallyTechnologies:ADDIX Speed: The compound for XC race specialists, It catapults Schwalbe's XC tyres into a new performance dimension. It's the answer for those who'd like to go even faster. There's only one thing that ADDIX Speed really loves and that's speed. So the rolling resistance has been chopped yet again.Super Ground: Combines lightweight and stability. Feels comfortable in any terrain. Balanced ratio of puncture protection and smooth-rolling. For flowing trails, long rides and any terrain.Tubeless Technology: For all ambitious sports cyclists, Tubeless is the right choice. Only Tubeless achieves the best values in terms of more speed, grip, puncture protection and comfortBuy Schwalbe Wheels & Tyres from Chain Reaction Cycles, the World's Largest Online Bike Store.
This is the "Cycling Bargains" detail page for the Cycling Deal or Bike Bargain you selected, here we show any additional information the merchant has provided for the deal, like a longer detailed product description and a higher resolution image. To purchase this cycling item from the merchant site just click on the image or the "view deal" button. Otherwise click the "back to results" button or the "back" button on your browser. Alternatively you can go to the Deal Finder, Price Drops, Handpicked Deals or Discount codes page by clicking the relevant link at the top of the page.
The Cycling Bargains Website & Mobile Apps finds you the best Deals, Price drops & Discount codes on complete Bikes, Equipment, Accessories, Helmets, Shoes, Nutrition, Supplements & Clothing etc. from the top Cycling Stores, saving you time & money. The Cycling Bargains website and Mobile Apps are independently owned, developed and provided by Cyclists for Cyclists