Cycling Bargains -
Chain Reaction UK DT Swiss HX 1501 Spline 30 Boost Wheelset - Black-Blue - SRAM XD, Black-Blue (32815159889)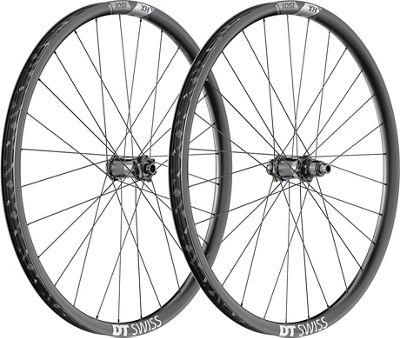 Cheapest | Lowest | Sale | Deal Price
Was £924.99, NOW £399.99 (57% OFF)
Available from Chain Reaction UK.
Chain Reaction UK DT Swiss HX 1501 Spline 30 Boost Wheelset - Black-Blue - SRAM XD, Black-Blue
Product Description
DT Swiss HX 1501 Spline 30 Boost WheelsetDesigned for riders who are looking for the ultimate performance. Thanks to the aluminium rim, the DT Swiss HX 1501 Spline 30 Boost Wheelset is the top hybrid wheel in the DT Swiss range. The rim is combined with a hub shell that offers better resistance to drive and braking torques that are common on modern eMTBs. This resistance is made possible by reinforced spokes, so that even greater accelerations can be generated than with the previous DT Swiss hybrid product range. Each component has been carefully designed, produced and tested to ensure a stress-free ride as well as maximum fun, regardless of the rider's level. Suitable for both mountain bikes and electronic mountain bikes (E-MTBs), this is a perfect choice for tackling the demands of modern mountain riding.Aluminium MTB Wheelset with Tubeless Ready TechnologyTubeless tyres offer several distinct advantages over the traditional tyre and tube combination. The tyre can be run at lower pressures without risking "snakebites", thus providing more grip. The lower pressure also provides a more comfortable ride. The absence of the tube means that there is no friction between the tube and the tyre, and therefore less rolling resistance when riding off-road and over obstacles. This model is tubeless ready, so you can enjoy tubeless advantages such as the ability to run lower tyre pressures for increased stability, comfort and fewer chances of flats or punctures.DT Swiss Pro Lock TechnologyDT Pro Lock spoke nipples prevent the spoke-nipple connection from loosening on its own. A patented two-component adhesive is injected into the nipple thread, which allows the construction of extremely durable wheels. As soon as the nipples are screwed in, the adhesive is activated and then hardens completely. Repeated re-centring is easily possible, although the adhesive strength decreases slightly with each re-centring.Ratchet EXP OSThe use of a single cylindrical spring results in less system wear while allowing faster full interlocking. With a full mesh of 30 teeth, the power generated by the engine and rider is transmitted evenly over a wide contact area, resulting in superior reliability. A larger double thread distributes loads over a wider area, reducing peak loads. This increases the service life of the system and even enables the transmission of greater torque. The axle was tested in FEM analyses to determine the bending load when riding an E-MTB and to optimise the axle resistance.Features: Material: Aluminium Use: Mountain Bike (MTB); Electric Mountain Bike (E-MTB) Axle Size: Front: 15x110mm Boost; Rear: 12x148mm Boost Spokes: 28 DT Hybrid spokes Nipples: DT Pro Lock, Squorx Pro Head Hubs: DT Swiss 240 Freehub Type: SRAM XD Freehub System: Ratchet EXP OS 30 Size: 29" ETRTO: 30-622 ASTM Category: 4 Brake Type: Disc brake, 6-bolt Valve Hole Diameter: 6.5mm Rim Width: 35mm Inner Profile Width: 30mm Rim Profile Height: 25mm Single or Pair: Pair Weight Limit: 140kg Weight: 1929gTechnologies: Optimised for use on E-MTBs. High-quality tubeless-ready aluminium rim. Reinforced DT Hybrid spokes for more lateral and torsional stiffness. Optimal power distribution for more robustness. Special hub body for improved durability. Ratchet EXP OS freewheel for maximum reliability.Manufacturer's Part Number: 8922296589222960 29" SRAM XDBuy DT Swiss Swheels & Tyres from Chain Reaction Cycles, the World's Largest Online Bike Store.
This is the "Cycling Bargains" detail page for the Cycling Deal or Bike Bargain you selected, here we show any additional information the merchant has provided for the deal, like a longer detailed product description and a higher resolution image. To purchase this cycling item from the merchant site just click on the image or the "view deal" button. Otherwise click the "back to results" button or the "back" button on your browser. Alternatively you can go to the Deal Finder, Price Drops, Handpicked Deals or Discount codes page by clicking the relevant link at the top of the page.
The Cycling Bargains Website & Mobile Apps finds you the best Deals, Price drops & Discount codes on complete Bikes, Equipment, Accessories, Helmets, Shoes, Nutrition, Supplements & Clothing etc. from the top Cycling Stores, saving you time & money. The Cycling Bargains website and Mobile Apps are independently owned, developed and provided by Cyclists for Cyclists