Cycling Bargains -
Chain Reaction UK Hope Custom i35 MTB Boost Front Wheel - Black and Turquoise - 15mm x 110mm, Black and Turquoise (32616596615)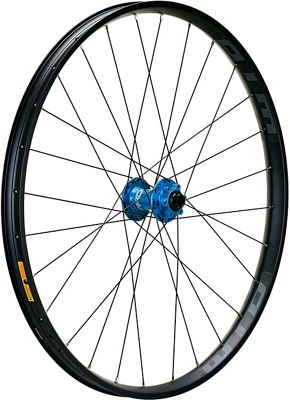 Cheapest | Lowest | Sale | Deal Price
Was £299.99, NOW £119.99 (60% OFF)
Available from Chain Reaction UK.
Chain Reaction UK Hope Custom i35 MTB Boost Front Wheel - Black and Turquoise - 15mm x 110mm, Black and Turquoise
Product Description
Hope Custom i35 MTB Boost Front WheelHand Built in the UK, the HOPE Custom i35 MTB Boost Front Wheel features superb components and a high-quality build to tackle wherever your next trail-riding adventure takes you. It comes kitted out with a Tubeless Ready WTB KOM Tough i35 TCS Rim, a Hope Pro 4 MTB Hub and stainless steel, plain gauge spokes. As a result, you'll benefit from its smooth and dependable rolling performance as you carve your way around the mountain. This wheel is ideal for enduro, all mountain and gravity/downhill riding.WTB KOM Tough i35 TCS RimThis rim features a super-durable alloy construction to ensure it can take everything the mountain throws at it, and it's also lightweight to ensure exceptional climbing efficiency. The durability is further enhanced by the I-Beam construction, while the dual support beams increase the stiffness for consistent, reliable handling. Plus, the 4D angled-spoke drilling disperses tension evenly to allow for a fast-rolling performance.Rim Features: Rim Material: Machined from forged 2014 T6 aluminium billet for unsurpassed reliability Rim Type: Clincher Tyre Compatibility: Standard clincher and tubeless clincher Tubeless Compatible: Yes Usage: Trail, Enduro, Gravity Width: 35mm (inner) Brake Compatibility: Disc brake only ERD: 27.5": 568mm; 29": 604mm Hub: Hope Pro 4 Boost MTB Hub Bearing Type: Sealed Stainless Steel cartridge bearings Hand-built in the UK WTB KOM Tough i35 Rim paired with Hope Pro 4 Hub to creates a high-performance, unique and durable DH/Enduro MTB wheel 35mm internal rim width, meaning these wheels can be mounted with 2.3" to 2.6" MTB Tyres 4D angled spoke drilling eliminates binding and lateral loading, dispersing tension more evenly over a greater area Recessed channel along rim centre has enabled installation of WTB's Solid Strip Solid Strip prevents tubeless tape sagging at the spoke holes for a smooth, consistent tyre/rim interface Weight: 602g (27.5"), 630g (29")Rim Technologies: UST Tubeless Ready: The UST concept improves traction, control and comfort while reducing inertia and flats. TCS 2.0 Technology: This refined version of the "Tubeless Compatible System" offers the same high-performance, lightweight mountain bike rim structure, but is now easier to install and more dependable.Hope Pro 4 Boost MTB HubFrom their very first Ti-glide hubs launched back in 1993, Hope has had a reputation for producing some of the most durable and high-quality hubs on the market. The mainstay of this reputation has been their attention to detail in both the bearings they use and their inspection processes. All bearings are from world-renowned manufacturers to ensure the highest quality. Also, every hub shell, freehub and axle are produced in their Barnoldswick factory and checked and inspected to the highest degree.The Hope Pro 4 hub builds upon the brand's Pro 2 EVO hub and offers superb attention to detail and excellent rolling performance thanks to the high-quality Schaeffler bearings throughout.Hub Features: Material: Machined from forged 2014 T6 aluminium billet for unsurpassed reliability Bearing Type: Sealed Stainless Steel cartridge bearings Conversions available (sold separately) for 15mm Boost, 20mm Boost and Torq Boost hub flanges are moved outboard 5mm compared to the standard 100mm front hub to increase wheel stiffness, only compatible with boost forks Weight: 188gBuy WTB Components from Chain Reaction Cycles, the World's Largest Online Bike Store.
This is the "Cycling Bargains" detail page for the Cycling Deal or Bike Bargain you selected, here we show any additional information the merchant has provided for the deal, like a longer detailed product description and a higher resolution image. To purchase this cycling item from the merchant site just click on the image or the "view deal" button. Otherwise click the "back to results" button or the "back" button on your browser. Alternatively you can go to the Deal Finder, Price Drops, Handpicked Deals or Discount codes page by clicking the relevant link at the top of the page.
The Cycling Bargains Website & Mobile Apps finds you the best Deals, Price drops & Discount codes on complete Bikes, Equipment, Accessories, Helmets, Shoes, Nutrition, Supplements & Clothing etc. from the top Cycling Stores, saving you time & money. The Cycling Bargains website and Mobile Apps are independently owned, developed and provided by Cyclists for Cyclists