Cycling Bargains -
Chain Reaction UK Onza Canis MTB Tyre - Skinwall - 2.85", Skinwall (31686938857)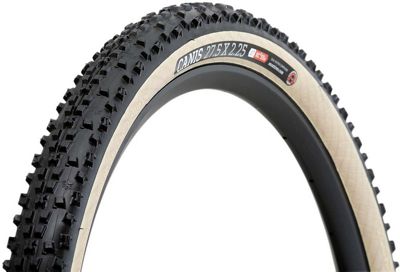 Cheapest | Lowest | Sale | Deal Price
Was £109.95, NOW £25.99 (76% OFF)
Available from Chain Reaction UK.
Chain Reaction UK Onza Canis MTB Tyre - Skinwall - 2.85", Skinwall
Product Description
Onza Canis MTB TyreGiving a durable and dogged performance as you tear through the trails, this Canis tyre by Onza is equipped with a grippy tread and low rolling resistance to make the most of every off-road adventure. Ideal for the cross country course, it uses its RC255A rubber compound and Kevlar bead to give a protective performance through the roughest routes. With a tubeless-ready design, this hard-wearing tyre is a top choice for the pacy and powerful MTBer. Features:Usage: XC, All Mountain Casing: C3ETRTO: 57-584TPI: 60Bead: Kevlar / FoldableRubber: RC255ATubeless-Ready: YesSkinwall: YesBuy Onza Wheels & Tyres from Chain Reaction Cycles, the World's Largest Online Bike Store.
This is the "Cycling Bargains" detail page for the Cycling Deal or Bike Bargain you selected, here we show any additional information the merchant has provided for the deal, like a longer detailed product description and a higher resolution image. To purchase this cycling item from the merchant site just click on the image or the "view deal" button. Otherwise click the "back to results" button or the "back" button on your browser. Alternatively you can go to the Deal Finder, Price Drops, Handpicked Deals or Discount codes page by clicking the relevant link at the top of the page.
The Cycling Bargains Website & Mobile Apps finds you the best Deals, Price drops & Discount codes on complete Bikes, Equipment, Accessories, Helmets, Shoes, Nutrition, Supplements & Clothing etc. from the top Cycling Stores, saving you time & money. The Cycling Bargains website and Mobile Apps are independently owned, developed and provided by Cyclists for Cyclists