Cycling Bargains -
Tredz Limited Royal Storm Long Finger Cycling Gloves (31447350635)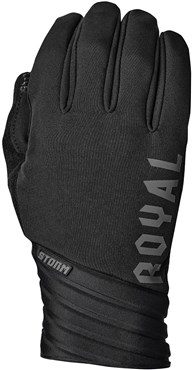 Cheapest | Lowest | Sale | Deal Price
Was £32.99, NOW £12.99 (61% OFF)
Available from Tredz Limited.
Tredz Limited Royal Storm Long Finger Cycling Gloves
Product Description
Storm Gloves - Thermal windproof and water repellent outer fabricSharing the same mantras the whole of the Storm range, the Storm Glove lets you get out and enjoy the ride when the elements are against you.Thermal windproof and water repellent outer fabric, with full fleece inner face, keep your hands breathing, dry and warm when the temperature drops without being too bulky. We've also kept the palms as low bulk as possible to retain a positive bar 'feel' and added grippy silicone print to help you keep a firm grip on your controls at all times.Extended Neoprene cuffs keep your wrists covered preventing the cold gap between most other winter gloves and jackets. All finished off with fleece thumb nose wipe, phone friendly fingertips and reflective branding.So get out and enjoy the trails, whatever the weather.Features: Thermal bonded wind-proof fabric,Pre-curved Ergonomic design,Fleece-lined,Extended long Neoprene pull-on cuff,Smart Phone friendly fingertips,Reflective logos.
This is the "Cycling Bargains" detail page for the Cycling Deal or Bike Bargain you selected, here we show any additional information the merchant has provided for the deal, like a longer detailed product description and a higher resolution image. To purchase this cycling item from the merchant site just click on the image or the "view deal" button. Otherwise click the "back to results" button or the "back" button on your browser. Alternatively you can go to the Deal Finder, Price Drops, Handpicked Deals or Discount codes page by clicking the relevant link at the top of the page.
The Cycling Bargains Website & Mobile Apps finds you the best Deals, Price drops & Discount codes on complete Bikes, Equipment, Accessories, Helmets, Shoes, Nutrition, Supplements & Clothing etc. from the top Cycling Stores, saving you time & money. The Cycling Bargains website and Mobile Apps are independently owned, developed and provided by Cyclists for Cyclists