Cycling Bargains -
Chain Reaction UK SRAM Level Ultimate MTB Disc Brake - Anodised Black - Direct Mount, Anodised Black (30370147809)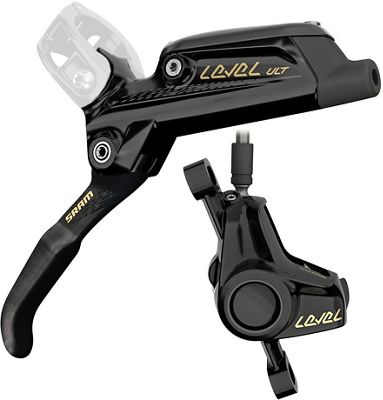 Cheapest | Lowest | Sale | Deal Price
Was £270.00, NOW £99.99 (63% OFF)
Available from Chain Reaction UK.
Chain Reaction UK SRAM Level Ultimate MTB Disc Brake - Anodised Black - Direct Mount, Anodised Black
Product Description
SRAM Level Ultimate MTB Disc BrakeThe SRAM Level Ultimate MTB Disc Brakes are equipped with all the same technology that is used in their Downhill World Championship winning "Guide" brakes, but packed into a more compact and lightweight package. The Level Ultimate brakes are perfect for Cross-county and light trail use and feature leaver pivot bearings and SRAM'S new DirectLink technology that work together to you a smoother, crisper feel. There's also a heat shield to restrict the amount of heat transferring to the caliper and DOT 5.1 brake fluid.Features: Body Material: Aluminium Lever Material: Aluminium Titanium hardware Caliper Design: 2-piston monoblock caliper Recommended Rotor type: 2-piece CLX Pad: Aluminium-backed organic Fluid: DOT 5.1 Mount: Ambidextrous Adjustment: Tooled Reach Adjust Technology Highlight(s): Timing Port Closure, DirectLink, Bleeding Edge, Expandable Bladder, Lever Pivot Bearings, Heat Shield Pad/Holder: Top-loading Intended Use: XC/Trail System: Open System Tri-Align Caliper Positioning System: No Tool-Free Pad Replacement: Yes Stainless Hardware: Yes Weight: 317gPlease note: Rotor NOT includedTechnologies:DirectLinkSRAM's DirectLink lever design produces a solid, positive feel the second you squeeze the lever to engage the brake. It offers a no-nonsense solution to give you precise control. Bleeding EdgeBleeding Edge technology makes bleeding brakes quick and simple. An updated fluid path and bleed porting make it easier to push fluid through the caliper. A dedicated bleed adapter plugs into the bleed port and seals the system to minimise air contamination and fluid loss.Expandable Bladder SRAM's new brake lever design includes a reshaped bladder that helps regulate and reduce air bubbles. The bladder is specifically shaped to evacuate air from the lever and push the fluid exactly where it's needed. The result is improved back-pressure relief, which produces dependable braking power and consistency.Leaver Pivot Bearings:Precision sealed bearings at the lever pivot enhance the clean, crisp lever actuation and consistent, light, one-finger feel.Heat ShieldThe stainless steel heat shields break the thermal connection between the pad and caliper body, reducing caliper fluid temperature by about 20C even in the most extreme testing conditions.Timing Port Closure:A hydraulic brake's timing port is the connection between the reservoir and the master cylinder bore. When the lever is squeezed, a cup seal passes this area and closes the port to pressurise the system. SRAM's new timing port closure system, called TPC Plus, features durable seals and an ultra-smooth cylinder bore finish producing dependable braking power and consistency.DOT 5.1Heat is an enemy of any brake system, so advancements in heat management mean advancements in your ride. SRAM found that DOT 5.1 takes almost three times longer to boil than DOT 4, thus allowing flawless, fade-free performance in even more extreme conditions.Buy SRAM Components from Chain Reaction Cycles, the World's Largest Online Bike Store.
This is the "Cycling Bargains" detail page for the Cycling Deal or Bike Bargain you selected, here we show any additional information the merchant has provided for the deal, like a longer detailed product description and a higher resolution image. To purchase this cycling item from the merchant site just click on the image or the "view deal" button. Otherwise click the "back to results" button or the "back" button on your browser. Alternatively you can go to the Deal Finder, Price Drops, Handpicked Deals or Discount codes page by clicking the relevant link at the top of the page.
The Cycling Bargains Website & Mobile Apps finds you the best Deals, Price drops & Discount codes on complete Bikes, Equipment, Accessories, Helmets, Shoes, Nutrition, Supplements & Clothing etc. from the top Cycling Stores, saving you time & money. The Cycling Bargains website and Mobile Apps are independently owned, developed and provided by Cyclists for Cyclists