Cycling Bargains -
Chain Reaction UK Mavic Deemax Downhill MTB Rear Wheel - Black - 7 Speed, Black (30370147361)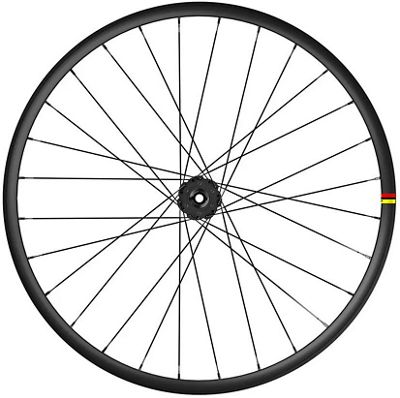 Cheapest | Lowest | Sale | Deal Price
Was £400.00, NOW £119.99 (70% OFF)
Available from Chain Reaction UK.
Chain Reaction UK Mavic Deemax Downhill MTB Rear Wheel - Black - 7 Speed, Black
Product Description
Mavic Deemax Downhill MTB Rear WheelSpecifically designed for downhill (DH) riding, this mountain bike (MTB) rear wheel features a rock-solid maxtal aluminium rim construction that's built to endure the knocks associated with jumps, drops, rock gardens and obstacles as you pedal across the roughest terrains. Mavic has also equipped this version with Super Boost axle spacing and SUP welding technology for further stiffness and strength as you carve your way around the mountain. Another highlight is its tubeless-ready technology, which allows you to run lower tyre pressures and enjoy tubeless benefits such as superior traction, smoother rolling performance and fewer risks of flats or punctures. Coming complete with 6-bolt disc brake compatibility, this is a perfect choice of upgrade for powerful and reliable braking operation as you weave between the trails.Features: Rim Material: Maxtal Aluminium Use: Downhill (DH) Axle Size: 12x157mm, Super Boost Internal Rim Width: 28mm ETRTO: 27.5" Option: 584x28TC; 29": 622x28TC Rim Profile: Clincher Drilling: Traditional Tubeless Ready: Yes Joint: SUP Tyre Compatibility: UST Tubeless and tubetype clincher Recommended Tyre Sizes: 60mm to 76mm (2.35" to 3.0") Valve Hole Diameter: 6.5mm Spoke Material: Steel Spoke Shape: Straight pull, flat, double-butted Spoke Count: 28 Spoke Lacing: 3 cross Wheel Hub Body: Aluminium Axle Material: Aluminium Freewheel: Instant Drive 360 Freehub Compatibility: Multiple options available to select Brake Compatibility: 6-bolt disc brake Bearings: Auto adjust sealed cartridge bearings (QRM Auto) Max Rider Weight: For a longer longevity of the wheel, Mavic recommends that the total weight supported by the wheels doesn't exceed 120kg, bike included ASTM Category 5: Gravity riding focused on the descent Single or Pair: Single rear wheelManufacturer's Part Numbers: LR3507100 Black 27.5" Shimano LR3506100 Black 29" Shimano 7sp LR3508100 Black 27.5" Shimano 7sp LR3668100 Black 27.5" SRAM XD LR3699100 Black 29" SRAM XDBuy Mavic Wheels & Tyres from Chain Reaction Cycles, the World's Largest Online Bike Store.
This is the "Cycling Bargains" detail page for the Cycling Deal or Bike Bargain you selected, here we show any additional information the merchant has provided for the deal, like a longer detailed product description and a higher resolution image. To purchase this cycling item from the merchant site just click on the image or the "view deal" button. Otherwise click the "back to results" button or the "back" button on your browser. Alternatively you can go to the Deal Finder, Price Drops, Handpicked Deals or Discount codes page by clicking the relevant link at the top of the page.
The Cycling Bargains Website & Mobile Apps finds you the best Deals, Price drops & Discount codes on complete Bikes, Equipment, Accessories, Helmets, Shoes, Nutrition, Supplements & Clothing etc. from the top Cycling Stores, saving you time & money. The Cycling Bargains website and Mobile Apps are independently owned, developed and provided by Cyclists for Cyclists