Cycling Bargains -
Chain Reaction UK Castelli Team Ineos Grenadier Aero Race Jersey - Savile Blue, Savile Blue (27402968603)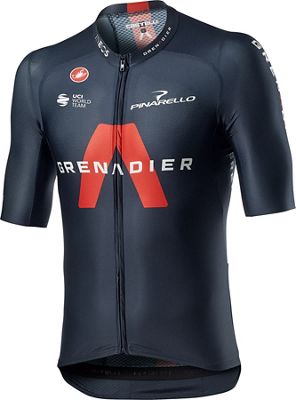 Cheapest | Lowest | Sale | Deal Price
Was £125.00, NOW £65.00 (48% OFF)
Available from Chain Reaction UK.
Chain Reaction UK Castelli Team Ineos Grenadier Aero Race Jersey - Savile Blue, Savile Blue
Product Description
Castelli Team Ineos Grenadier Aero Race 6.1 JerseyWhen speeds are at their highest and small aero gains can be the difference between first and first loser, the Team Ineos Grenadier Aero Race 6.1 Jersey from Castelli could well be your race-winning advantage. Free Speed The name of Castelli's very first aero-focused cycling jersey was the Split Second. It caused quite a stir when it first appeared as until then performance cycle jerseys were about efficient moisture management with little consideration of progress through the air. The Team Ineos Grenadier Aero Race 6.1 Jersey has the DNA of that aero jersey but with modern CFD (Computational Flow Dynamics) to analyse wake-flow, it's so much more efficient at reducing drag, honed for speeds between 30 and 55 km/h. Less drag equals more speed for the same power output. Faster without more training. Now that's an advantage worth having. Cool ComfortIt's not just aerodynamically efficient though. Moisture build-up is also dealt with rapidly and with ruthless efficiency. All fabrics are quick-wicking and a 3D mesh back, similar to their high-performance base layers, ensures you're kept cool and dry as you build up speed. All the effort to go fast will mean you need you to keep fuelled. Fear not, the Aero Race 6.0 has space for all your nutrition via the easy to reach back pockets. The drop tail design keeps them perfectly in position and minimises sagging when they're loaded up too. The Aero Race 6.1 Jersey is Castelli's most aerodynamically advanced design to date and yet it's also their best fitting too - Just ask their WorldTour professional riders. A remarkably comfortable high-performance cycling jersey whether it's your longest days in the saddle or a short and intense criterium race.Features:Materials: 82% Polyester, 18%ElastaneCFD-based fabric placement and seam constructionEngineered for aero efficiency at 30 to 55 km/hAirflow shoulder constructionVelocity Rev2 fabric on front and sleeve3D mesh back for breathabilityElbow-length stretch sleeves with raw-cut edgeYKK® Vislon® zipperThe integrated transparent number pocket on the back removes the need to pin on race numbers and improves the aerodynamics around the lower backSuggested Temperature range: 18 to 32 degrees CBuy Castelli Clothing from Chain Reaction Cycles, the World's Largest Online Bike Store.
This is the "Cycling Bargains" detail page for the Cycling Deal or Bike Bargain you selected, here we show any additional information the merchant has provided for the deal, like a longer detailed product description and a higher resolution image. To purchase this cycling item from the merchant site just click on the image or the "view deal" button. Otherwise click the "back to results" button or the "back" button on your browser. Alternatively you can go to the Deal Finder, Price Drops, Handpicked Deals or Discount codes page by clicking the relevant link at the top of the page.
The Cycling Bargains Website & Mobile Apps finds you the best Deals, Price drops & Discount codes on complete Bikes, Equipment, Accessories, Helmets, Shoes, Nutrition, Supplements & Clothing etc. from the top Cycling Stores, saving you time & money. The Cycling Bargains website and Mobile Apps are independently owned, developed and provided by Cyclists for Cyclists