Cycling Bargains -
Tredz Limited Giro Empire VR70 Knit SPD MTB Shoes (27171675555)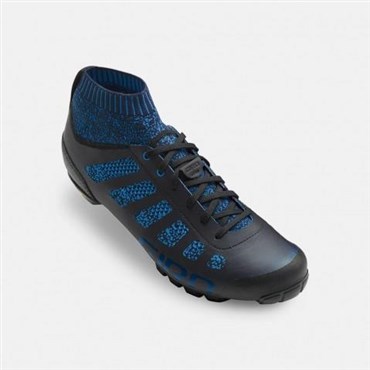 Cheapest | Lowest | Sale | Deal Price
Was £229.99, NOW £78.75 (66% OFF)
Available from Tredz Limited.
Tredz Limited Giro Empire VR70 Knit SPD MTB Shoes
Product Description
Empire VR70 Knit MTB ShoesGo ahead, take a second look. The Empire VR70 Knit is unlike any mountain bike shoe you've ever seen. It features our new engineered Xnetic Knit upper, which offers unparalleled comfort and breathability, with a bonded TPU exoskeletal system to provide support where you need it. The upper is DWR-treated for water repellency and easy cleaning, while a rubber toe guard and bonded TPU heel increase durability and abrasion resistance. A closed stretch-knit ankle cuff provides superior comfort, additional support and protection from scree out on the trail. All of this is built on top of a stout Easton EC70 carbon fiber sole that offers pro-level stiffness, and a tough, molded Vibram rubber outsole that provides protection and grip when you're off the bike.,Key Features: Upper: Engineered Xnetic Knit, Bonded TPU exoskeletal support structure, Closed stretch-knit ankle cuff, Rubber toe guard Bonded TPU heel guard, DWR treated, Empire laces,Outsole: Easton EC70 carbon fiber Molded Vibram rubber high-traction lugged outsole, Accommodates steel toe spikes,Footbed: SuperNatural Fit Kit with adjustable arch support, Aegis anti-microbial fiber,Weight: 80 grams (size 42).
This is the "Cycling Bargains" detail page for the Cycling Deal or Bike Bargain you selected, here we show any additional information the merchant has provided for the deal, like a longer detailed product description and a higher resolution image. To purchase this cycling item from the merchant site just click on the image or the "view deal" button. Otherwise click the "back to results" button or the "back" button on your browser. Alternatively you can go to the Deal Finder, Price Drops, Handpicked Deals or Discount codes page by clicking the relevant link at the top of the page.
The Cycling Bargains Website & Mobile Apps finds you the best Deals, Price drops & Discount codes on complete Bikes, Equipment, Accessories, Helmets, Shoes, Nutrition, Supplements & Clothing etc. from the top Cycling Stores, saving you time & money. The Cycling Bargains website and Mobile Apps are independently owned, developed and provided by Cyclists for Cyclists