Cycling Bargains -
Chain Reaction UK Assos Cylance Aero Cycling Jersey - Black - XS, Black (27148611505)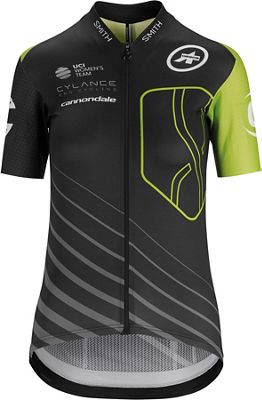 Cheapest | Lowest | Sale | Deal Price
Was £145.00, NOW £43.50 (70% OFF)
Available from Chain Reaction UK.
Chain Reaction UK Assos Cylance Aero Cycling Jersey - Black - XS, Black
Product Description
Assos Cylance Aero Cycling JerseyThe Assos Cylance Aero Cycling Jersey brings you an aerodynamic fit honed for riding fast. And it's super-light and breathable too, keeping you cool as the pace and temperatures ramp up. The Cylance Aero Cycling Jersey is the team issue jersey as used by riders of the Cyclance cycling team for hot-weather racing. Across the front the open 3D knit miniCheck Tex brings with it brilliant levels of breathability to keep you drier when putting in race-pace efforts and when riding in hot weather. To the back, a super-light cooling panel boosts comfort still further. The back of the jersey also features Stabilizer 2-way stretch material; it stretches across its width but remains stable vertically, supporting the rear pockets. The result is a smooth fit and pockets that resist sagging even when fully loaded up. Sleeves and collar are made with Push Pull textile, giving a smooth comfortable fit when you're in a low racing position and excellent ultraviolet protection. As you'd expect of a jersey designed for racing, the fit sits close to the body. This close fit reduces drag, and while it may feel odd and restrictive off the bike, drop into an aggressive riding position and it all makes sense. With a full-length zipper, it's easier to get your aero jersey on and off too and gives complete control of ventilation to match your exertion levels and temperatures. Features:Materials: 60% Polyester, 27% Polyamide, 13% ElastaneSuper-light miniCheck Tex open 3D knit fabric that has truly exceptional breathability - UPF25Highly breathable Push Pull sleeves and collar - UPF50+Featherweight rear cooling panel - UPF30Stabilizer 2-way stretch material with minimal give on the vertical axis to produce stable, high capacity pockets that won't sagFull-length zipperracingFit: A fit that is tighter and slightly more compressive than Assos' alternative regularFit and comfortFit options. It may feel restrictive out of the riding position but feels like a second skin while riding, resulting in improved comfort and less dragBuy Assos Clothing from Chain Reaction Cycles, the World's Largest Online Bike Store.
This is the "Cycling Bargains" detail page for the Cycling Deal or Bike Bargain you selected, here we show any additional information the merchant has provided for the deal, like a longer detailed product description and a higher resolution image. To purchase this cycling item from the merchant site just click on the image or the "view deal" button. Otherwise click the "back to results" button or the "back" button on your browser. Alternatively you can go to the Deal Finder, Price Drops, Handpicked Deals or Discount codes page by clicking the relevant link at the top of the page.
The Cycling Bargains Website & Mobile Apps finds you the best Deals, Price drops & Discount codes on complete Bikes, Equipment, Accessories, Helmets, Shoes, Nutrition, Supplements & Clothing etc. from the top Cycling Stores, saving you time & money. The Cycling Bargains website and Mobile Apps are independently owned, developed and provided by Cyclists for Cyclists