Cycling Bargains -
Chain Reaction UK Schwalbe Winter Spike K-Guard Road Tyre - Black - Wire Bead, Black (25637627007)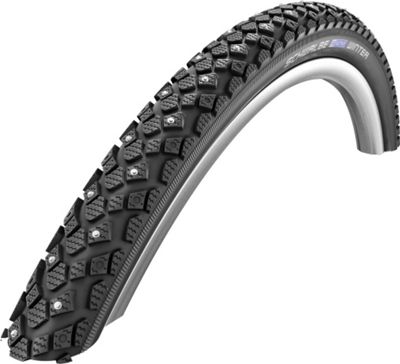 Cheapest | Lowest | Sale | Deal Price
Was £41.49, NOW £11.99 (71% OFF)
Available from Chain Reaction UK.
Chain Reaction UK Schwalbe Winter Spike K-Guard Road Tyre - Black - Wire Bead, Black
Product Description
Schwalbe Winter Spike K-Guard Road TyreEnjoy a lower rolling resistance and exceptional grip in winter weather, thanks to the Winter Spike K-Guard Road Tyre from Schwalbe. With half the number of spikes, reflective lines and a durable K-Guard protection, it offers exceptional security when road cycling in frosty conditions.Features:Tyre Type: ClincherBead Type: WireCompound: WinterPuncture Protection: K-GuardSpikes: 118Skin: TwinMaximum load: 75kgCasing: 50 TPITubeless Compatible: NoPressure Range: 26x1.75": 2-5 Bar (30-70 PSI); 700x30c: 3.5- 6.5 Bar (50-95 PSI); 700x40c: 2-5 Bar (30-70 PSI); 700x35c: 2.5-6 Bar (35-85 PSI); 28x1.1/2": 2.5-5 Bar (35-70 PSI)Size/Width: 26x1.75"; 700x30c; 700x40c; 700x35c; 28x1.1/2 Weight: 26x1.75": 1000g; 700x30c: 805g; 700x40c: 905g; 700x35c: 870g; 28x1.1/2": 925gPlease Note: The 28x1.1/2" size option will not fit modern 700c wheels as it has a larger inner diameter. 700c wheels have an ETRTO of 622mm, whereas 28" wheels have an ETRTO of 635mm.TechnologiesK-Guard: An extremely cut-resistant high-tech fibre makes it possible to ensure, even on very light tyres, an extraordinarily high level of puncture resistance. In combination with SnakeSkin sidewall protection, Schwalbe call it Double Defense Technology.Active Line: The basis for all Active Line tyres is the high-quality 50 EPI carcass. Schwalbe no longer produce tyres with a coarse 20 or 24 EPI carcass. In addition, K-Guard provides effective puncture protection for Active Line tyres.Buy Schwalbe Wheels & Tyres from Chain Reaction Cycles, the World's Largest Online Bike Store.
This is the "Cycling Bargains" detail page for the Cycling Deal or Bike Bargain you selected, here we show any additional information the merchant has provided for the deal, like a longer detailed product description and a higher resolution image. To purchase this cycling item from the merchant site just click on the image or the "view deal" button. Otherwise click the "back to results" button or the "back" button on your browser. Alternatively you can go to the Deal Finder, Price Drops, Handpicked Deals or Discount codes page by clicking the relevant link at the top of the page.
The Cycling Bargains Website & Mobile Apps finds you the best Deals, Price drops & Discount codes on complete Bikes, Equipment, Accessories, Helmets, Shoes, Nutrition, Supplements & Clothing etc. from the top Cycling Stores, saving you time & money. The Cycling Bargains website and Mobile Apps are independently owned, developed and provided by Cyclists for Cyclists