Cycling Bargains -
Chain Reaction UK Maxxis High Roller II Tubeless Ready Bike Tyre - Black - Folding Bead, Black (25010860193)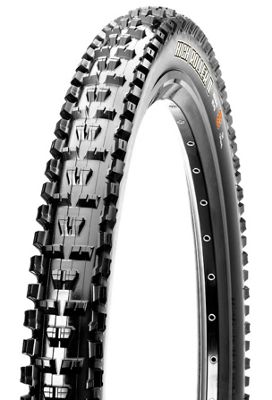 Cheapest | Lowest | Sale | Deal Price
Was £74.99, NOW £25.99 (65% OFF)
Available from Chain Reaction UK.
Chain Reaction UK Maxxis High Roller II Tubeless Ready Bike Tyre - Black - Folding Bead, Black
Product Description
Maxxis High Roller II Tubeless Ready MTB TyreDesigned with mountain bike (MTB) and downhill riders in mind, the High Roller II Tubeless Ready Tyre is ready for whatever challenge you meet on the trail. Featuring an aggressive tread profile for exceptional soil penetration and mud-shedding qualities, it's also tubeless ready, so you can benefit from even traction even with lower tyre pressures, without risking pinch flats or punctures.Increased Braking and Traction PerformanceThe High Roller II MTB Tyre is manufactured with a square profile that provides a solid, consistent feel across the tread knobs for a stable ride. The modified tread knobs vastly improve braking performance and traction on hard surfaces, which is proven on downhill and all-mountain trails for a boost in performance.Features: Use: Loose Over Hard, Medium, Loose, WetDual compound tread Casing TPI: 60Tyre Bead: FoldableTyre Type: Clincher Compound: DualMax Inflation PSI: 60 Tubeless Ready: YesSize/Width: 26" x 2.3"; 27.5" x 2.3"; 27.5 x 2.4"; 29" x 2.3" Weight: 835g Buy Maxxis Wheels & Tyres from Chain Reaction Cycles, the World's Largest Online Bike Store.
This is the "Cycling Bargains" detail page for the Cycling Deal or Bike Bargain you selected, here we show any additional information the merchant has provided for the deal, like a longer detailed product description and a higher resolution image. To purchase this cycling item from the merchant site just click on the image or the "view deal" button. Otherwise click the "back to results" button or the "back" button on your browser. Alternatively you can go to the Deal Finder, Price Drops, Handpicked Deals or Discount codes page by clicking the relevant link at the top of the page.
The Cycling Bargains Website & Mobile Apps finds you the best Deals, Price drops & Discount codes on complete Bikes, Equipment, Accessories, Helmets, Shoes, Nutrition, Supplements & Clothing etc. from the top Cycling Stores, saving you time & money. The Cycling Bargains website and Mobile Apps are independently owned, developed and provided by Cyclists for Cyclists